DESIGNED TO HARNESS
THE POWER OF THE WIND
The Aero Wing Sail is a new type of rig designed to harness the power of the wind, enabling a more sustainable use of yachts. The Aero Wing Sail is designed with ease of use, comfort, and design freedom in mind. The Aero Wing Sail is suitable for all types of yachts, allowing every yacht owner to benefit from its advantages. Wind will always be a free and sustainable source of energy, available everywhere and independent of any infrastructure.
the advantages
The advantages of this revolutionary aero wing sail compared to a conventional rig are.
• Sail more, be sailing within 10 seconds
• User-friendly & comfortable, due to the automated control
• Safe, since no there are no lines and blocks
• Reduced maintenance and operational expenditure due to fewer components and no wear and replacement of sails.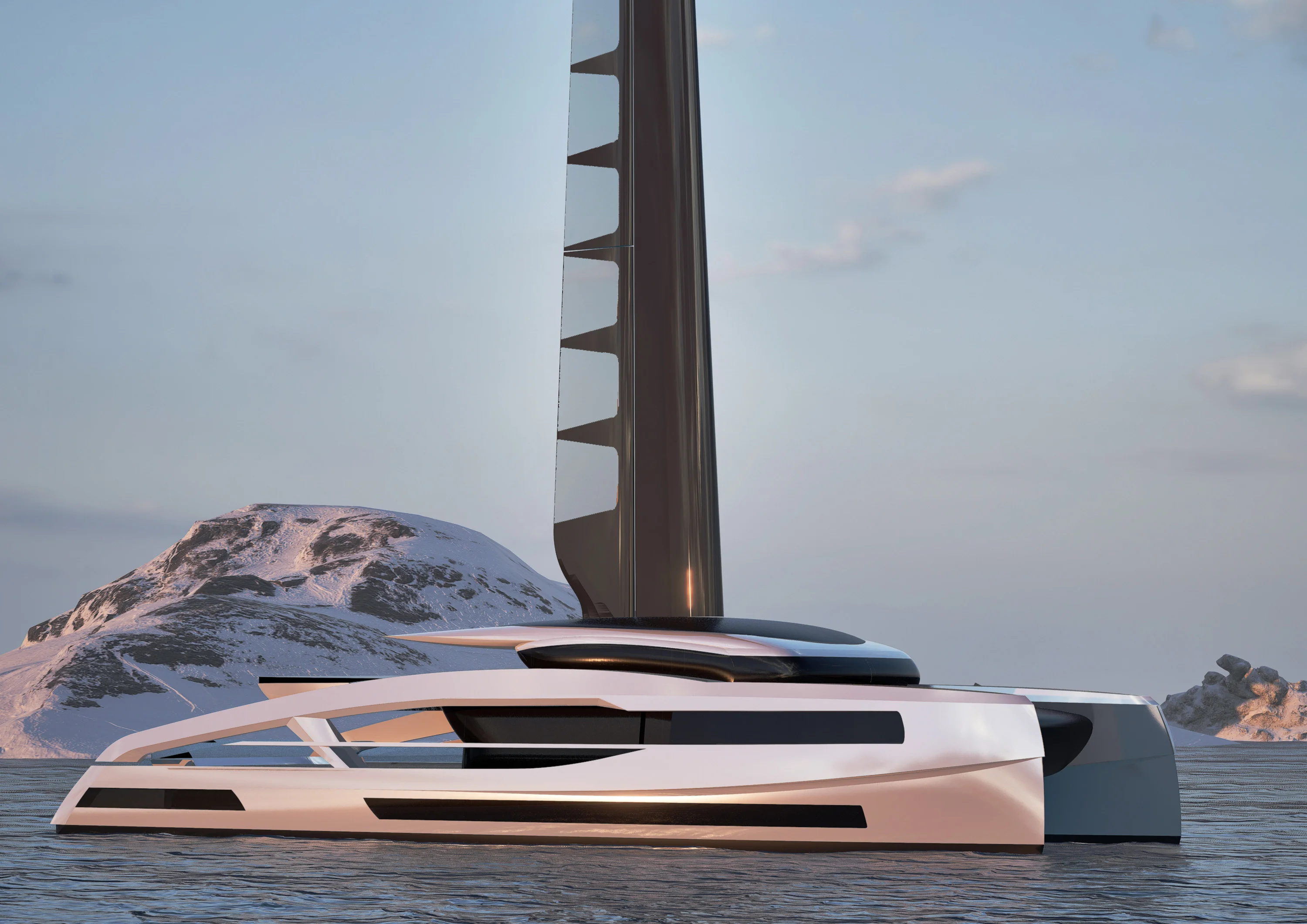 how it works
The Aero Wing Sail is made from lightweight solid materials comparable to an aircraft wing. The wing is free-standing and able to rotate infinitely about the vertical axis. There are multiple flaps used to alter the camber, controlling the power of the wing. To depower, the flaps can be twisted and even inverted at the top to create a righting moment. The wing feathers freely when at rest. For 1% weather extremes, the wing can be folded horizontally.

A control system will actively orient the wing and flaps for optimal efficiency and comfort, both when sailing and at rest.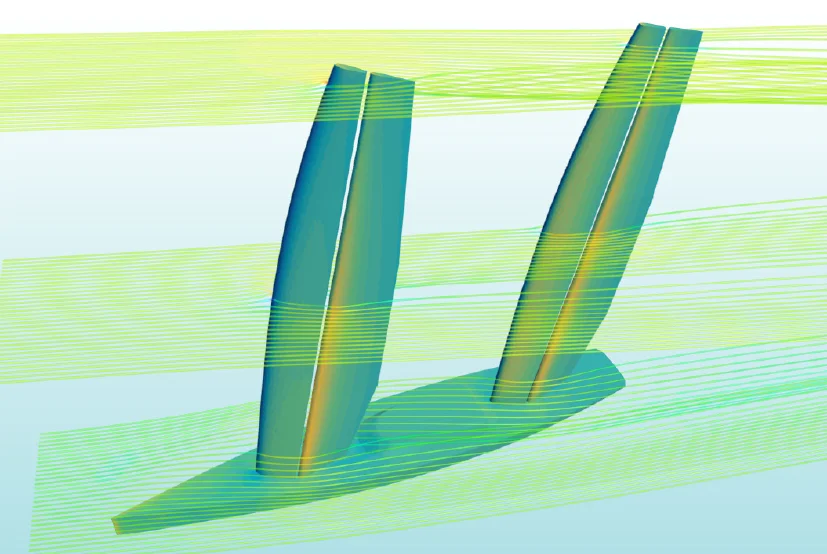 development status
After thorough research, design, and simulations, a prototype was successfully crafted in-house. The prototype underwent extensive testing and delivered promising results. Currently,
full-scale wing designs are in progress.
Next year, our focus will be on finalizing the full-scale wing design, which includes:
- Wing structural design
- Flap and wing rotation mechanism
- Wing automation
- Production process
To validate these designs, we plan to construct two prototypes: one to assess structural integrity and another to test the wing's automation capabilities.

Our goal is to launch Rondal's Aero Wing Sail at METS in 2024.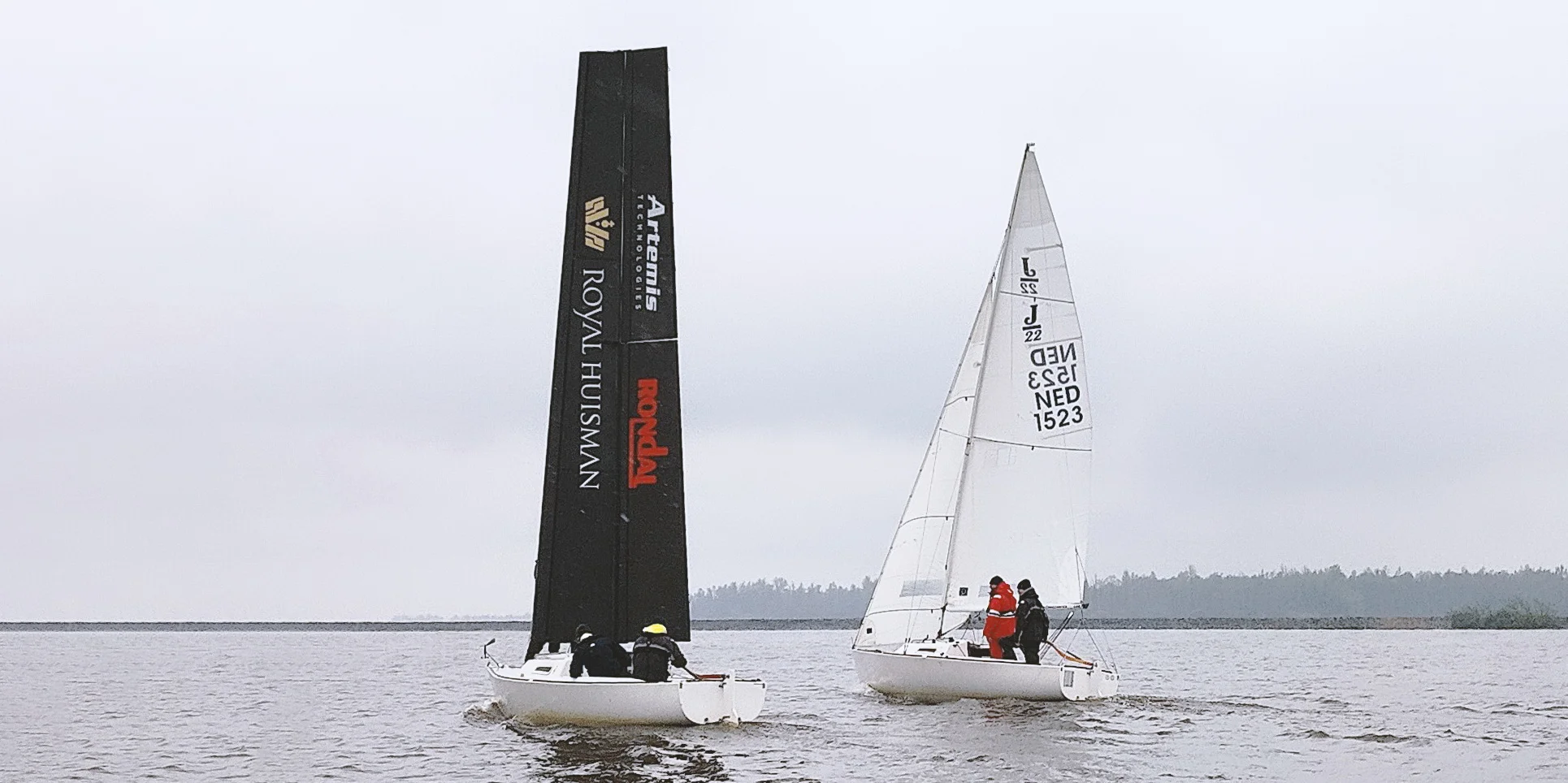 the roots of the aero wing sail
The Aero Wing Sail is the first generation of an unstayed structural wing. This product is developed in collaboration with Artemis Technologies and is derived from the wing sails used in the America's Cup. Combined with Rondal's expertise in large carbon rigs for yachts, this product has realized its potential in the market.
THE RONDAL TEAM LOVES
PUSHING BOUNDARIES
Management
Innovation
Service
Sales
Join us
on the journey...
...towards cleaner seas and a brighter, more eco-conscious tomorrow.
As we embark on the next phase, we are looking for pioneering partners.